Moving house and in need of storage? At Stratford Self Store, we specialise in house removals and household storage units, alongside Self Storage and office space near you. We understand how stressful a big move can be, so with our specialist service we offer not just a full house removal, but also a storage solution to keep all your household items safe and secure during your move. Our location is in Stratford Upon Avon and we are therefore accessible from local areas including Warwick and Leamington Spa.
Benefits Of Our Household Storage Units
Household storage units offer several benefits including:
Convenient and accessible storage space: Household storage units provide a convenient and accessible solution for homeowners to store items they don't have room for in their homes. They allow you to keep your items organized and within reach, rather than having to navigate through cluttered spaces or navigate to an off-site storage facility.
Security: Stratford Self Store's household storage units contain security measures such as barrier-controlled access, door code entry, 24-hour surveillance, and individual locks on units. This will give you peace of mind knowing that your belongings are safe and secure.
Flexibility: All our storage units come in a variety of sizes, which allows you to choose the size that best fits your needs and storage amount. This means you can get a unit that's just big enough for your items, rather than paying for unnecessary space.
Cost-effective: Renting a storage unit can be a cost-effective solution for storing items you don't use frequently, especially if you live in an area with high real estate prices and limited storage space.
Protection from damage: Storage units can protect your items from damage that may occur in your home, such as water damage from leaks, mould growth, or pest infestations. All our household storage units are clean and dry to keep your valuables not only safe but in pristine condition.
We collaborate with a local removal firm to make your relocation from your house to our storage facility as stress-free as possible! We are here to make your relocation as simple, smooth, and convenient as possible, no matter what or when you are relocating!
When you use our household storage units, you will be able to access your stuff and add or take away goods whenever we are open. Furthermore, our rental agreements mention that your contract is adaptable to meet your needs. This implies that you can enhance or downsize the amount of storage you require at any moment, subject to availability.
Why You Need A Household Storage Unit
When you're moving house, there can be many reasons for utilizing household storage units, including:
Lack of space: If you live in a small home or apartment, you may not have enough room to store all of your belongings. A storage unit can provide additional space to store items that you don't use frequently or don't have room for in your home.
Downsizing: If you're moving to a smaller home or downsizing, you may need a temporary or long-term storage solution for items that won't fit in your new home.
Renovations or remodeling: If you're undergoing renovations or remodeling, you may need a place to store your furniture and other items temporarily.
Seasonal items: Seasonal items such as holiday decorations, sporting equipment, or outdoor furniture can take up valuable space in your home. A storage unit provides a convenient and accessible solution for storing these items when you're not using them.
Protecting valuables: Some items are valuable and need to be protected from damage, theft, or loss. A storage unit with proper security measures can provide peace of mind for storing valuable items.
Business purposes: Small business owners may use a storage unit to store excess inventory, equipment, or records.
Overall, a household storage unit can provide a flexible, secure, and cost-effective solution for storing items you don't have room for in your home or need to protect.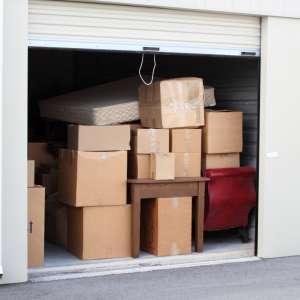 Based in Stratford-Upon-Avon, we are an easily accessible and experienced Storage company with over 15 years of experience. Our experience and knowledge mean we understand what our customers need out of household storage units, and this has allowed us to adapt our service to not only provide storage but also provide you with a full pick-up, removal, and safe drop-off solution.
Book One Of Our Household Storage Units Today
Enquire today about one of our household storage units at Stratford Self Store. Alternatively, call us on 01789 720027 or find out what other services we can offer you.