Do you have a shortage of space in your home or workplace? Do you require a handy location where you can keep your stuff while you move or remodel? We can help! At Stratford Self Store, we have the ideal storage solution for you in our storage units in Leamington Spa. You can rely on us to protect your belongings while giving you more room in your life thanks to our cutting-edge facilities, adaptable solutions, and top-notch security measures as a storage place near you.
Why Choose Our Storage Units in Leamington Spa?
Variety of Unit Sizes: We understand that everyone's storage needs are unique. That's why we offer a wide range of storage unit sizes to accommodate your requirements. Whether you need to store a few boxes, furniture, or even vehicles, we have the perfect unit size for you. Our storage units are designed to maximize space utilization, ensuring that you only pay for the space you actually need.
Convenient Location: Our storage units in Leamington Spa are conveniently located which makes them easily accessible for both residential and commercial customers. No matter where you are in the area, you can reach our facility with ease, saving you time and effort. We prioritize convenience, allowing you to store and retrieve your belongings whenever it suits you best.
State-of-the-Art Security: We take the security of your belongings seriously. Our storage units in Leamington Spa are equipped with advanced security measures to give you peace of mind. Our facility features 24/7 CCTV surveillance, secure access control systems, and perimeter fencing. Additionally, our units are individually alarmed, providing an extra layer of protection for your stored items.
Climate Control: We understand the importance of maintaining optimal conditions for certain items, such as delicate furniture, electronics, or documents. That's why our storage units offer climate control features. This ensures that temperature and humidity levels are regulated, protecting your belongings from extreme heat, cold, or moisture damage.
Flexibility and Accessibility: We think it should be simple to get to the things you've stored. Our storage units provide various rental periods, so you can select the length of time that best matches your requirements, whether you need it for short- or long-term storage. Additionally, during our extended facility hours, you have unrestricted access to your unit, allowing you to retrieve or add goods anytime you need to.
Clean and Well-Maintained Facilities: We take pride in offering storage facilities that are spotless and well-kept. To guarantee a spotless atmosphere for your possessions, our units undergo routine inspection and cleaning. We are dedicated to keeping the entire facility spotless, making storage a pleasant and sanitary experience for you.
Exceptional Customer Service: Customer satisfaction is our first goal at our storage units in Leamington Spa. Our helpful and educated team is always there to help you, whether it's by responding to your questions, assisting you in selecting the ideal unit size, or offering advice on storage best practises. From the time you enter our doors, we work hard to provide a unique and extraordinary client experience.
What You Can Store In Our Storage Units In Leamington Spa
Our Storage units in Leamington Spa are versatile and can accommodate a wide range of items. Here are some examples of what you can store in storage units:
Furniture: Whether you're downsizing, remodelling, or in need of temporary storage, furniture items such as sofas, tables, chairs, beds, and cabinets can be safely stored in a storage unit.
Appliances: If you have extra appliances or need to store appliances during a move, storage units provide a secure space for items like refrigerators, washing machines, dryers, dishwashers, and microwave ovens.
Seasonal Items: Seasonal belongings like holiday decorations, patio furniture, camping gear, sporting equipment, and gardening tools can be stored in a unit until they're needed again.
Clothing and Personal Items: If you have clothing, shoes, accessories, or personal items that you don't have space for at home, a storage unit in Leamington Spa can be a great solution for keeping them organized and protected.
Business Inventory and Equipment: Small businesses can utilize storage units to store excess inventory, office supplies, files, equipment, and seasonal promotional materials. It's a cost-effective way to manage inventory and free up valuable office space.
Vehicles: Storage units come in various sizes, some of which are designed to accommodate vehicles such as cars, motorcycles, boats, or recreational vehicles (RVs). This is particularly useful if you don't have space to park these items at home.
Collectables and Memorabilia: Valuable collections, antiques, artwork, and sentimental items can be securely stored in climate-controlled units to protect them from damage or theft.
Documents and Records: Businesses or individuals with important documents, records, or archives can utilize storage units to keep them organized and protected, particularly in cases where legal or regulatory requirements mandate their retention.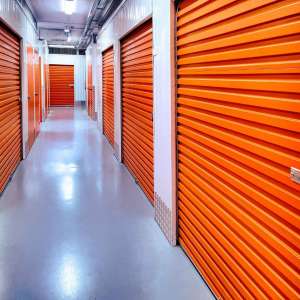 Free Up Space Today with Our Storage Units in Leamington Spa!
With the help of our dependable storage units in Leamington Spa, you can get rid of clutter and recover your living or working space. Enjoy our state-of-the-art facilities' flexibility, convenience, and security. We have the ideal unit for you, whether you need short-term storage while moving or a long-term solution for your extra stuff. To learn more about our storage choices and to reserve your space, get in touch with us right now. With the help of our dependable storage services, enjoy the independence of a space free from clutter!